Why online coaching can work for you!

Commitment
These days our busy lifestyles dictate when we can train.
Your unique programme can take this into consideration, specifically creating a regime suited for the gym or at home. All supported by an online app that allows you to access your programme anywhere, anytime.

Ongoing Support
Tracking your progress is key to reaching your goals.
Using the app, I'll review your progress and achievements allowing me to push you harder to reach your targets. At any stage of your journey I can help keep you on track with support & advice.

Goal Specific
Everyone is different – when it comes to training, there's no one-size-fits-all.
I'll look at your current capabilities and future aims, then build a programme tailored to you. As a result, we'll get better results and avoid plateau.

Cost Effective
All the benefits of having a 1-2-1personal trainer, without the cost.
Without the costly time constraints of seeing a one to one trainer, you will still get the motivation, knowledge and amazing results.It's quality training, at exceptional value for money.
Mike thinks very carefully about each of the exercises I perform and tailors them to my physical abilities

At 55 I have finally stopped dieting and changed my lifestyle with the support and encouragement that Michael has given to me

I believe the regular sessions have helped to keep the more serious symptoms at bay as well as reducing my medication

His sessions are challenging, tough and dare I say it, fun, and he continues to push me every time

I followed his expert approach to achieve success, whereby I lost a staggering 5 stone in 12 weeks!

You have to be honest with yourself and listen to Mike's advice as what he says makes sense
Online coaching app
Transforming the way you train!
Get the most out of your training and keep track of your progress with my online app.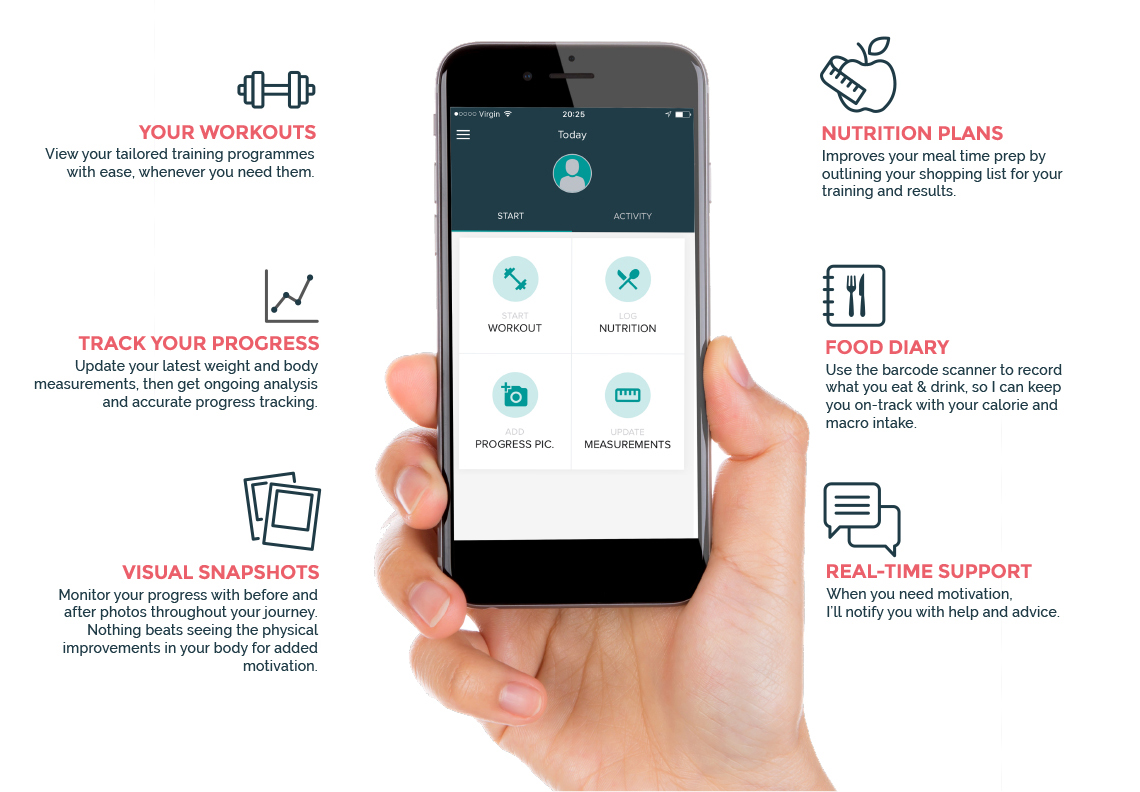 Choose a package
and start your training today!
There are 3 packages
for you to choose from
Choose one to suit both your budget and your requirements
Each plan incorporates difference elements, but each and every one will get you closer to reaching your goals.

Training
Package
£119
12 week training plan
Nutrition
Package
£139
12 week nutrition plan
Combined
Package
£200
12 week training & nutrition plan
Training Package
12 Week - Training Plan
You will receive a personalised training programme tailored towards your goals. I will put a system in place that enables you to acheive consistant progress keeping you highly motivated throughout your journey.
Weights, tempos, reps and sets will all be monitored and manipulated to keep your body progressing. To avoid plateaus, I use training systems that build muscle to burn fat and tone the whole body.
EFFECTIVE COACHING, EXCEPTIONAL VALUE FOR MONEY
For the cost of an average gym membership, you will get a one-to-one periodised programming of a personal trainer right to your phone - the advantage of my experience, incredible results, and knowledge that lasts a lifetime.
Periodised individual training programmes
Convienient online app for your workouts
Tracked progress and anaylsis
Injury provention and rehab advice
Squat analysis
Ongoing support
All the benefits of a coach right to your phone
Sign up today
Nutrition Package
12 Week - Nutrition Plan
You will receive a nutritional plan that's tailored to your weight, activity and goals, as well as any allegies, intolerances and dislikes.
You'll get a plan designed around your body and goals, and a nutritional guide that talks through the physcological aspects of eating. You will come out the other side with a vast knowledge and strategy for maintaining a healthier lifestyle.
Using my online app provides fantastic tools and data so we can keep track of your progress, support and motivate you along the way.
Other weight loss programmes provide short term success but it's not sustainable, educational or realistic, My nutrition package is about lasting change - the motivation, guidance and support you need to live a healthier future.
Personalised nutrition plan
Macro and Calorie calculations for your goal
Convienient online app for your food diary
Detailed initial analysis
Helpful nutrional guide
Tracked progress and analysis
Ongoing support
Sign up today
Learn Even More
Combined Package
12 Week - Training & Nutrition Plan
Combine both packages and get the best possible results - fast.
Most diets do not take into consideration how you train, leading to poor performance in the gym and weight gain.
Not only can I coach you through your training, but together with your nutrition, I can assess your data to improve your perfomance, reduce fat and increase your metabolism.
BEST VALUE FOR MONEY!
I've seen the power of combining training and nutrition. That's why my combined package is available at a specially discounted rate - so you can see the impact on the right guidance and coaching for yourself.
Achieve the ultimate results
Great value for money
Nutrition tailored to your training plan
Ongoing support
Tracked progress and analysis
Faster results
Sign up today
Online Coaching
£119.00 – £200.00
Looking for a bespoke exercise plan? Or a cost effective solution to your training needs?
Alternative fitness coaching...